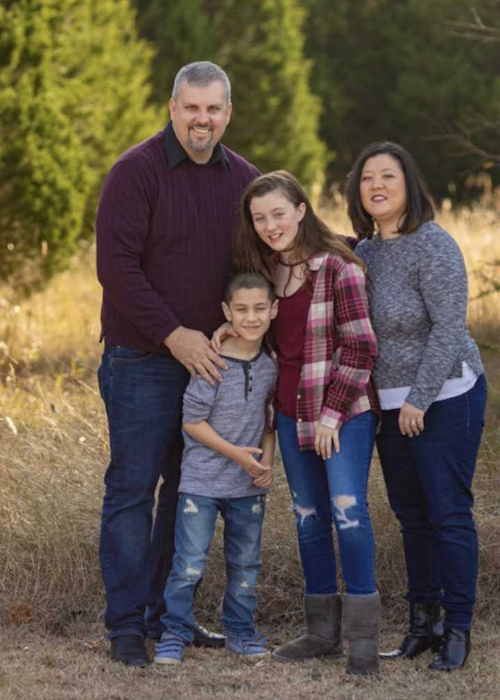 Meet the Owners!
We are Jennifer and Ed Wilkinson, the new owners of We Rock the Spectrum – Columbus.  We have been on the special needs journey for 11 years since our son Joshua was born. Due to some medical issues, he required a 90-day stay in NICU. Early in Joshua's life, he was diagnosed with mild Cerebral Palsy and Autism. Madelyn (then 4 years old), Ed and Jennifer had the opportunity to stay at the Ronald McDonald House while Joshua was in the hospital. We were overwhelmed with the love we were shown during the holidays by the staff and many volunteers. From this experience, we wanted to make a difference in other people's lives that were going through similar journeys. We started to volunteer during our stay at the RMH. Eventually, Ed was asked to become a member of the Board of Directors for the Ronald McDonald House of Central & Northern New Jersey for 5 years. In that position, We helped with fundraising and introduced hundreds of volunteers to the RMH. Navigating the never-ending evaluations, doctor appointments, feeding, speech, occupational, physical, horse and ABA therapy appointments was/is challenging, but we continue to search for ways to allow Joshua to live the best life possible regardless of his unique needs.
The We Rock the Spectrum Kid's Gym franchise has been near and dear to our hearts for many years. We have been WRTS customers since first visiting the Mt Laurel NJ Gym in 2016 and have also visited other WRTS branches as well. Upon reading the franchise's motto, "Finally a place where you never have to say I'm sorry", we knew it was a special place. Through our first-hand experiences with the challenges that special needs families face, we are excited to bring the gym to the next level and continue the We Rock mission in Columbus, OH!
We are looking forward to meeting as many of you as possible.
Suspended equipment with swings – for balance and vestibular treatment
Crash mats and crash pillows – for fun, motor planning, and strength
Zip line – for stress release and joint and body relaxation
Trampoline – for building leg and core strength
Indoor play structure – for climbing and increasing playground skills
Sensory-based toys – for improved auditory processing and fine motor skills
Fine Motor and Arts and Crafts Area – for improved hand-eye coordination